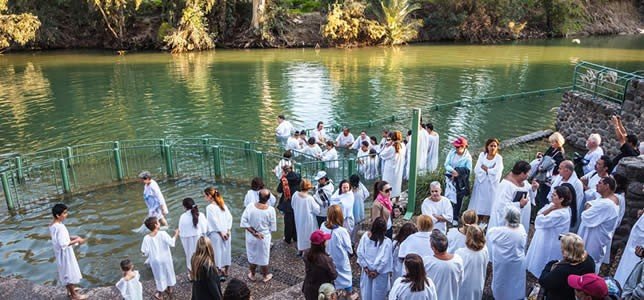 The Jordan River, also knows as the River Jordan flows through the land of the Bible 156 miles draining it's water in to the Dead Sea. Along the Jordan River you'll find Yardenit, perhaps one of the most spiritual significant sites to visit during a Holy Land tour to Israel.
The River Jordan holds great significance to both Jews and Christians; for Jews the tribes of Israel crossed the river on dry ground to enter the Promise Land with Joshua after wandering in the desert for years. For Christians because John the Baptist baptized Jesus in the waters of the Jordan River.
Flowing south from its sources in the mountainous area where Lebanon, Syria and Israel meet, the Jordan River passes through the Sea of Galilee and ends in the Dead Sea. Much of it also flows below sea level falling 950 meters from it's source until it reaches the Dead Sea.
There's an old song describing the Jordan River being "deep and wide," the river is neither today. In many places it trickles down to a small creek less than 2 meters deep and 10 meters wide. In Jesus' time and until the mid 20th century, flooding in the winter season expanded the river to 1.5 km wide. Because of dams in Jordan, Lebanon, Syria and Israel the Jordan River does not flow or flood like it use to.
The River Jordan is mentioned in the Book of Genesis and in both the Old and New Testament:
The location where Jesus was baptized by John the Baptist is believed to be in Jordan, on the east bank of a big loop in the Jordan River opposite of Jericho.
While the Jordanian site was not accessible, a modern site commemorating Jesus baptism was established at Yardenit in Israel. The site located at the southern end of the Sea of Galilee is a popular baptismal site to visit. You will see Christian pilgrims on their Holy Land Israel tours in inspirational baptismal ceremonies – often in white robes, and Christian pilgrims touching the waters of the river and in prayer. The baptismal site is surrounded by beautiful eucalyptus trees, and a striking river flora.